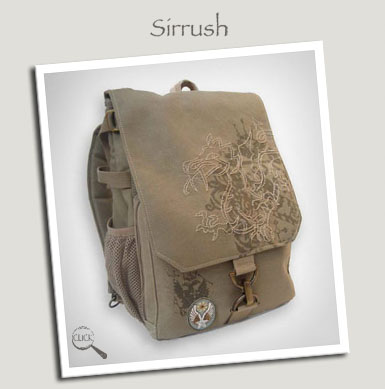 Legend has it the Babylonians were protected by a dragon they called Sirrush. If the Babylonians could name this bag, we're pretty sure Sirrush would be it. Practical styling and durable fabric protect you and your laptop from harm, while cool layered artwork makes you a legend in your own time.
Smart features:
Heavyweight cotton exterior with contrast plaid inside.
Padding throughout bag saves your laptop and your back.
Interior padding is water and shock resistant.
Main section includes separate laptop pocket and secret zip pouch.
Zippered front section provides multiple pockets made for cds, business cards and gadgets.
Detachable phone pocket on strap.
Elastic side pockets for easy access.

Color: Toasted Sesame
Bag Dimensions: 11"x16"x8" (WxHxD)
Fits Laptop: 10.5"x16"x1.5" (WxHxD)
Weight: 3 lbs
Warranty: Guaranteed to be free from manufacturing defects for life.
Shipping: 5-10 business days